Pope's Intentions for the month of December
Universal – Say 'No' to Corruption. That those who have material, political or spiritual power may resist any lure of corruption.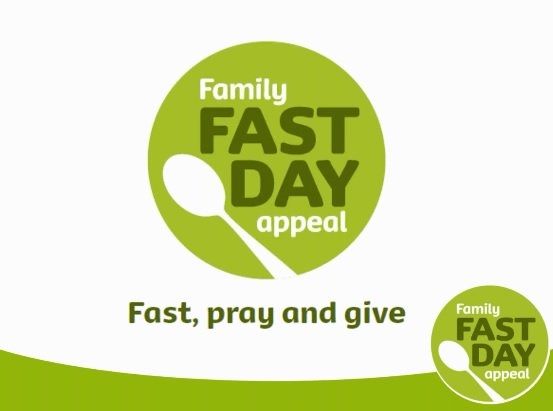 Next Friday 23rd February is Cafod's Family Fast Day – a day to give up a meal and give generously to help some of the world's poorest people. This Lent, that giving can make double the impact, as every pound you give will be matched with another £1. For every £1 you donate to Cafod the UK government will also donate £1. If you donate £5 it will become £10 etc. at no extra cost to you. Twice the number of lives can be transformed. Twice the number of children can have the opportunity to grow healthy and strong. The government will double your donations throughout Lent up to a total of £5 million, so now is a crucial time to give.
You can donate using one of Cafod's family fast day envelopes and please do fill in the form to Gift Aid your donation. As important as Fasting and Giving is Praying so please use the prayer throughout Lent and beyond for those of our brothers and sisters who, unlike ourselves, have no choice but to fast. On Friday 23rd there will be Stations of the Cross followed by a fast day soup and bread lunch, another way in which we can show solidarity with God's Family in Zambia, Syria, Myanmar and all the other places where our brothers and sisters are suffering. Please join us on that day and thank you for reading this.
GRACE FOR FAMILY FAST DAY
Everlasting God, we give thanks for you nourish and strengthen us with your merciful love.
Give us this day our daily bread.
We pray for those who hunger in scorched lands, with no food for their children. Together, we cry out for justice.
Give us this day our daily bread.
Help us to share generously as one global family, and to hold onto hope for a world transformed.
Bread of life, we pray your people may find life and joy in all its fullness.
Through Christ our Lord, Amen
Mass Times
Sunday
18
Holy Masses
08.30am
Deceased Members of the Beale Family
10.30am
For Joanna & Edmund Fajga
20 Years Wedding Anniversary
03.30-5.00pm
Lenten Course & Benediction
06.00pm
Polish Mass
Monday
19
Holy Mass
06.00am
People & Parish
Tuesday
20
Holy Mass
09.30am
Dennis Wall R.I.P.
07.00 - 08.00pm
Exposition of the Blessed Sacrament & Confessions
Wednesday
21
Our Lady Help of Christians & St Denis
Holy Mass
10.30am
Funeral Requiem Mass Louis Rieunier Snr R.I.P.
Thursday
22
Holy Mass
08.00am
For The Passing of OSCE Takers.
Friday
23
BIBLE MISSION WEEKEND
12.30pm
Stations of the Cross
Holy Mass
06.30pm
For David & Sarah Beresford
Saturday
24
Holy Mass
05.30pm
For all Our Bible Mission Participants.
Sunday
25
Holy Masses
08.30am
Peter Tolley R.I.P.
10.30am
Stuart Dougal R.I.P.
06.00pm
Polish Mass
I was sick and you visited me
Please pray for the sick and housebound
| | |
| --- | --- |
| Pat & Bernard Connelly | Theo Brown |
| Jane Rossier | Lesley Margetts |
| Sean Andrew Cowan | Paul Evans |
| Jane Mitchell | Jillian Browning |
| Jennifer Cayanar | Patricia Lavelle |
| Sienna Rose | Baby Lexi Harrison |
| Marta Castillo Capel | Patrick James |
| Pam Paice | Christiane Austin |
| Sister Maureen McNully | Kathleen Kelland |
| Christopher Wells | Alice Lockton |
| Lexy Harrison | Richard Rooke |
| William Mark Holmes | Sue Weymouth |
| James Mason | Alyson Wilkinson |
| David Collins | Lisa Stockwell |
| Zoe Jaffa | Fr Gerard Nellliyottukonam |
Please call Julia on 617514 to add / omit names. Names on the sick list will remain for one month unless an extension is requested.
LENTEN PROGRAMME
Mondays of Lent
Holy Mass 6am Followed by refreshments in the hall
Tuesdays of Lent
Exposition of the Blessed Sacrament and Confessions 7 – 8pm
Fridays of Lent
Stations of the Cross 12.30pm Followed by Holy Mass and hunger lunch in the hall.
Sundays of Lent Sunday Afternoon (time to be confirmed) Lenten Course
''We Adore You, O Christ and We Praise You.''
The Gift of the Holy Eucharist. Followed by Benediction
LENTEN PENETENTIAL SERVICES
February 27th Paignton 6pm
March 13th Abbey Road 6pm
March 20th Totnes 6.30pm
First Holy Communion and First Reconciliation 2018
Our next session for Children & Parents will be on Thurs 8th Feb

at 6pm in the parish centre.
RCIA: Journey in Faith "Come and see."
The next RCIA session will be on 22nd February 2018 at 6.30pm in the Parish Centre.
PARISH PASTORAL COUNCIL
The next meeting of the Parish Pastoral Council will take place on Thursday 1st March. If you have any issues that you would like the PPC to deliberate please get in touch with the Chair of the Council, Sr Benignus: benignus.ob@gmail.com or the Secretary, Andrea Rodgers: Amr11@hotmail.co.uk
Women's World Day of Prayer
Friday 2nd March at 10.30am. Central Church Torquay.
Lenten Retreat
Saturday 3rd March at St Rita's Centre Honiton. 10.30am to 4.30pm. Cost £25 per person (includes lunch & Coffee).
For information Tel 01404 42635 or email stritas@btinternet.com
Lenten Hunger lunches
There will be a hunger lunch at 1.30pm on Fridays after stations of the cross and Mass. If you or your group are willing to organise the lunch, please indicate on the sheet at the back of the church. Also if you or your group are willing to lead Stations of the Cross, please indicate on the sheet.
St Patrick's Day
Bishop Mark will be in the parish for Official Visitation on 17th March. In the evening we will have a small celebration in the hall at 7pm. Beatrice will be providing Irish Stew & a dessert. Hopefully you will be able to come & celebrate. In order for Beatrice to cater for the correct amount, please PRINT YOUR NAME on the sheet at the back of the church. ONE NAME PER LINE PLEASE.
Question of the Week
How can our compassion lead us to break barriers and bring healing to others, thereby giving glory to God?
Annual 2nd Offering next Sunday
for the Diocesan Lourdes Pilgrimage Fund that helps fund some of our sick pilgrims and subsidises our youth to travel to Lourdes.
IMPORTANT DATES FOR YOUR DIARIES 2018 – SO FAR
| | |
| --- | --- |
| February 23 to 25 | Bible Mission Weekend |
| March 17 to 18 | Bishop Mark's Official Parish Visitation. |
| May 12 | Filipino Community May Procession & Holy Mass |
| May 26 | CWL 50th Anniversary Mass |
| June 30 to July 7 | Legion of Mary - Pilgrimage for Christ. |
| September 9 | Weekend of the Eucharistic Congress in Liverpool. Public procession of the Blessed Sacrament after the 10.30am Mass |
Catenian Association – Province 13 – Fourth Public Speaking Contest
Saturday 24th February. Following the success of the Catenian Association's Public Speaking Contest over the last 3 years, we would like to extend an invitation to all Catholic 6th Formers, in years 11 to 14 (16 to 19 year olds) who are attending any Catholic school, Church school or State school, to participate on Saturday 24th February at St Peter's Church, Crownhill, Plymouth. The winner will receive the Provincial Trophy, awarded annually to the winning school, as well as a personal trophy, cash prize & certificate. The winner is also entitled to enter the national competition in Manchester during September. Please contact Peter Holman on 01626 438446 or phadenraf@gmail.com
CATECHETICAL SUMMER CAMPS 2018
Applications are now being taken for places at the Plymouth Diocese Catechetical Summer Camps, to be held at Grangehurst, Buckfast Abbey. Camp details and application forms can be obtained from the back of the church or on-line from the website : www.pdsummercamps.org.uk
Prompt applications are advisable.
DIOCESAN Pilgrimage to the Holy Land February 2019
Bookings are coming in for this pilgrimage to be led by Bishop Mark from 18th to 25th February 2019. Completed booking forms and deposits need to be received before 18th April this year.
To request an itinerary and booking form please contact Pilgrimage People on 0800 6123423 or info@pilgrimagepeople.org quoting ref: PLYM01. We will be travelling from Luton airport and options for transport to and from the airport will be available.
Formation Days for Catechists
A four-part course, free of charge. Content will include Teaching to Pray, Liturgical life, Preparing the Faith & Life in Christ. The following dates are available:
Location
Date
Time
Truro Catholic Church
(TR1 1SE)
3rd March 2018
11am to 1.30pm
11th September 2018
11am to 1.30pm
1st December 2018
11am to 1.30pm
St Peter's Parish Room
Crownhill
Plymouth
(PL5 3AX)
5th May 2018
10.30am to 1pm
6th October 2018
10.30am to 1pm
19th January 2019
10.30am to 1pm
St Mary's
Poole
(BH15 2EG)
24th February 2018
10.30am to 1pm
16th June 2018
10.30am to 1pm
3rd November 2018
10.30am to 1pm
9th February 2019
10.30am to 1pm
Parish Rooms Hire Charges
| | |
| --- | --- |
| Main Hall and Kitchen | £16 per hour |
| ( In house catering available in negotiation with Beatrice Deloffre) | |
| Upper Hall (Refreshment making facilities) | £10 per hour |
| Small meeting room | £8 per hour |
Parishioners 1/3 off listed prices.
All hirers will sign a contract that must be strictly adhered to.
All hall bookings to be made via Joy Wells – Parish Office
Tues to Fri 9.30 to 12.30
PLEASE NOTE IF HALL HIRERS HAVE NEGOTIATED WITH BEATRICE DELOFFRE TO PROVIDE REFRESHMENTS, SHE IS ONLY RESPONSIBLE FOR COOKING AND CLEANING THE KITCHEN AFTER USE.
THE HALL HIRER REMAINS RESPONSIBLE FOR LAYING UP TABLES & CLEANING THE HALL AFTERWARDS.
NEXT SHARED LUNCH
25TH MARCH 2018
NEXT SUNDAY LUNCH 18TH FEBRUARY IN THE
DOCTOR SHEILA CARROLL MEMORIAL HALL
1PM. (One sitting only)
Two Courses and Coffee £10
Please sign your name and make your choice on the sheet at the back of the church
by Thursday 15th. February

SANCTUARY LAMP
SPONSORED BY DOREEN & MIKE SMYTH
FOR
BIRTHDAYS OF OUR CHERISHED ONES IN HEAVEN
TYRONE – DOUGLAS – KEVIN
SAINT VINCENT DE PAUL SOCIETY
An SVP group has recently been established in our parish. Our current focus is on visiting people who may be in need of support or company either in their own, or residential homes. If you, or anyone you know, might appreciate a visit from our team, please get in touch with one of us. We would also like to hear from anyone who might consider joining us in this pastoral ministry. Philip Martin 07798626084
HOSPITALITY AND SOCIAL TEAM
NEW MEMBERS ALWAYS WELCOME
CRAFT CLUB
NEXT MEETING TUESDAY 20TH FEBRUARY
10.00AM IN THE SMALL MEETING ROOM
ASSUMPTION PARISH PRAYER GROUP
Next Meeting Wed 21st February 6.00pm In the Upper meeting room.
EVERYONE WELCOME!
MOTHERS' PRAYERS
NEXT MEETING WED 28TH FEB.
11.00am in the Lady Chapel
CATHOLIC WOMEN'S LEAGUE
TOMBOLA AFTER BOTH MASSES 11th FEBRUARY
NEXT MEETING WEDNESDAY 14TH FEBRUARY 10.30

NEW MEMBERS ALWAYS WELCOME
READERS
Date
First Reader
Second Reader
Sunday
25th February
8.30am
A Sisson
A Chee
10.30am
Sr Benignus
A Krasnopolski
EXTRAORDINARY MINISTERS OF HOLY COMMUNION
Date
Time
Ministers
Sunday
25th February
08.30am
M Sisson
M Leckie

P Long
J Kelly
10.30am
T Bailey
J Salabsab
R & N Salabsab
COFFEE MORNING VOLUNTEERS
Date
Time
Volunteer
Sunday
25th February
08.30am
L & V Bonfante
M Hughes
10.30am
NO COFFEE COLD DRINKS AVAILABLE IN THE HALL FOYER
BIBLE STUDY MISSION WEEKEND
23rd to 25th February 2018
An exciting weekend is planned for the whole parish; with workshops, prayer, innovative ideas, fellowship and food. Please keep this weekend free, it will be a great opportunity to get closer to the Lord. Beginning Friday evening and ending Sunday afternoon.
In preparation for the Bible Study weekend, members of the Parish Evangelisation Team will be sharing part of their life journey regularly in the newsletter.
IF YOU ARE INTERESTED PLEASE PRINT YOUR NAME ON THE 'SIGN UP SHEET' AT THE BACK OF THE CHURCH.  NO COMMITMENT!
FRIDAY
6.30PM MASS FOLLOWED BY DRINKS, NIBBLES & INTRODUCTION TO THE WEEKEND
SATURDAY
8.30AM SHARED BREAKFAST
10.00AM BIBLE EXPLORERS – An interactive presentation for parents and children aged 7 – 11 years old. Children younger than 7 years will have their own liturgy.
11.30AM WORKSHOP – GOSPEL PARABLES – A Bible study based workshop to help people grow in their understanding of the Gospel parables.
1.00PM BRING AND SHARE LUNCH
2.30 LECTIO DIVINA – a lead, scripture based reflection.
3.30PM WORKSHOP – INTERPRETING GOD'S CALL IN THE BIBLE – A Bible study based workshop looking particularly at how God calls in the Bible and how we and the Bible characters respond to God's call.
5.30PM EVENING MASS
6.30PM EVENING GATHERING AND SUPPER.
SUNDAY
SUNDAY MASSES AS USUAL, BUT THERE WILL BE NO COFFEE AFTER THE 10.30 MASS  – (but cold drinks will be available in the lobby area.)
12.30AM HOG ROAST – prepared by our Filipino parishioners.
2.00PM STORY TELLING – by the Bible Team.
2.30PM IN THE CHURCH –
CONCLUDING LITURGY & BENEDICTION.
BONUS BALL
Dear Bonus Ball Supporter, the renewal of the next session is now due. We hope you enjoy the possibility of winning a cash prize with your own unique number.
New members are very welcome. Besides the fun of winning, church funds are supported. The cost of £26 for next 6 months can be paid with a cheque made payable to 'Church of the Assumption' and sent to the presbytery for the attention of the Bonus Ball Organiser.
OFFERINGS 11/02/18
God bless all contributors & their families.
GIFT AID
£388.00
LOOSE PLATE
£306.08