Epiphany Celebration 2018
Friday 5th – Sunday 7th January 2018
CRIBFEST
Monday 25th December 2017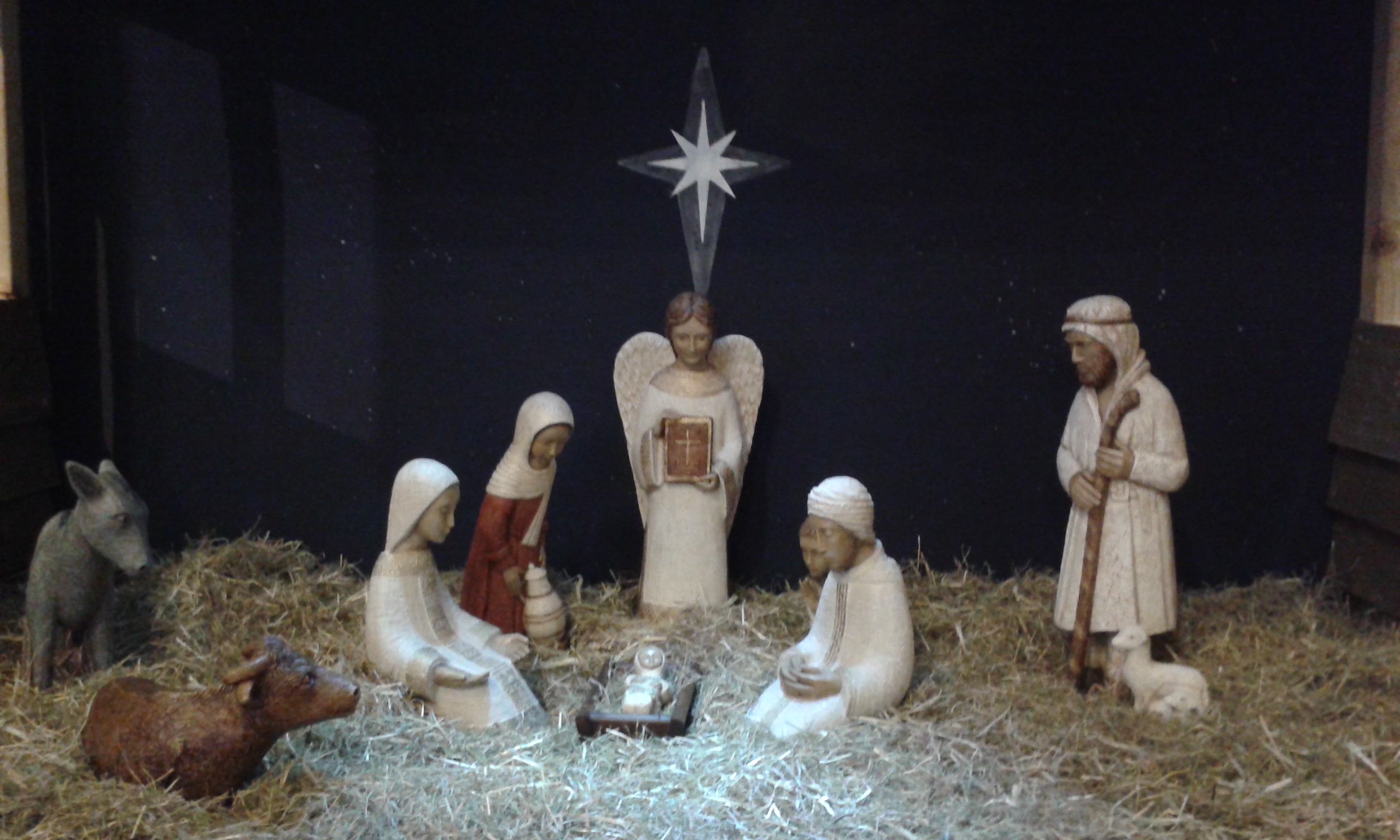 Happy Christmas from Assumption Church Torquay
Sunday 17th December 2017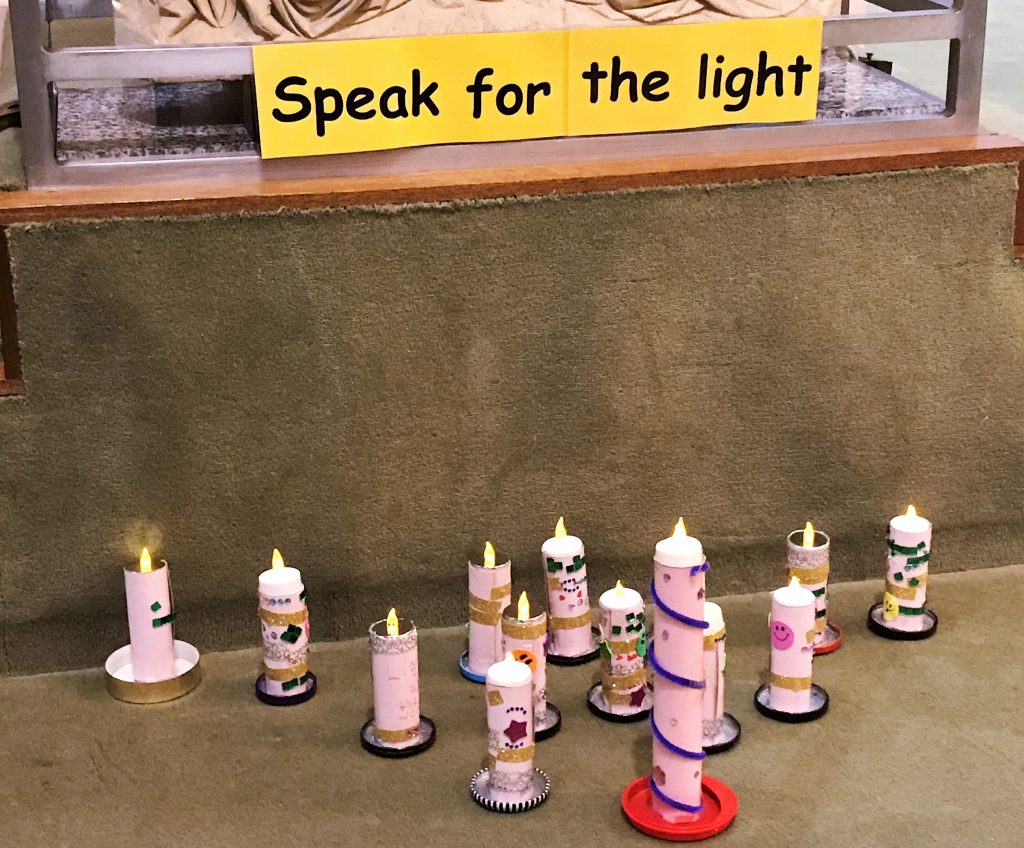 In Children's Liturgy of the Word, the children decorated candles. The 'electric' candles were switched on and placed in front of the lectern during Mass. Following the reading from this Sundays Gospel, the candles represent the light of Christ and our aim to 'speak for the Light' – just as John the Baptist did. The children took their candle home after Mass. In so doing, they spread the Word ever further!
Monday 11th December 2017
Happy Birthday Father Kieran !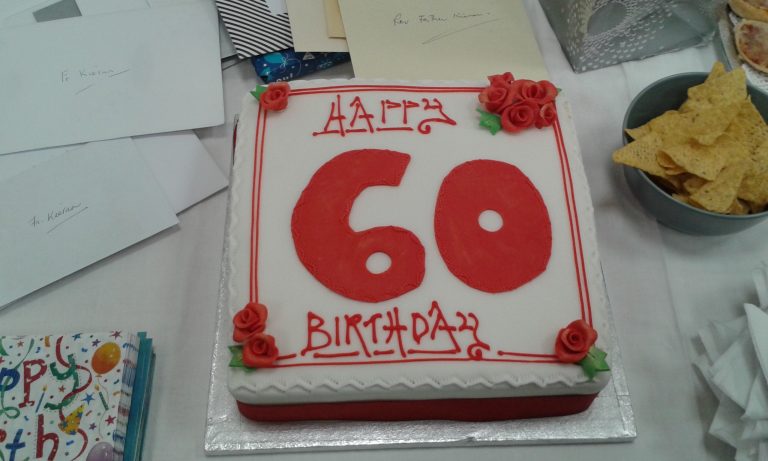 Week Of Guided Prayer
Final Group Meeting 9th December
Symbols of Prayer
At the close of our Guided week of Prayer we were all invited to bring symbols of what Prayer meant to us.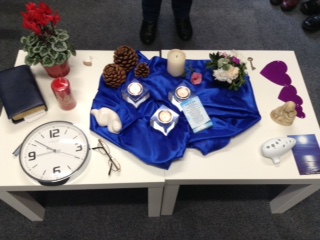 Symbols of Prayer: Scripture for inspiration, A clock (without battery)  to show we should stop and make time for God, Flowers to represent to beauty of God's Creation, Candles to represent the light of Christ, Hearts to show God's love for us and our love of God. A key to represent freedom, hearing aid and glasses to represent hearing and seeing God, an Ocarina to represent God's gift of music as a form of prayer. Prayer Cards, and a small statue of Virgin & Child
PRAYER MEETING
AND
MEDJUGORJE REUNION
22nd November 2017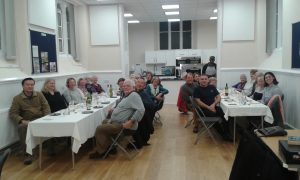 Many thanks to all those who turned up for the joint Medugorje Renuion and Prayer Group Meeting. Food, Fun and Faith all in one night.
Shared Lunch 29th October 2017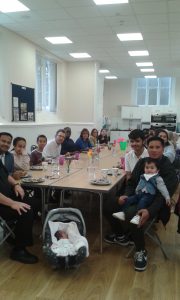 Today we enjoyed our traditional 'shared lunch' that takes place on the last Sunday of every Month. An opportunity to welcome our youngest member ( 5 days old ) as well as celebrate 2 birthdays !
Fast Day Frugal Lunch 7th October 2017
The Fast Day Frugal Lunch at the Assumption Church Torquay. Despite being small in numbers, the big hearted group raised £70 for CAFOD.
Parish Pastoral Council Meeting
30.3.17
Agenda
Opening prayer
Apologies
Conflicts of interest (an opportunity to state any new conflicts either permanent or
specific to this meeting)
Agree and sign minutes of last meeting 12.1.17
Matters arising from last minutes
1. Audio system (MH)
2. Requiem Mass card/booklet (MH)
3. Persecuted Christians (MH)
4. Confessional Privacy (MH)
5. Talking before Mass (MH)
6. Publication of minutes (Sr B)
7. Cross above Altar (HH)
8. Past and present Parish Priests (Sr B)
* Any other business
Present: Michael Hinchey, Father Kieran (Parish Priest),
Robert Giampaglia (Deacon), Sr Benignus (chair), Beatrice De Loffre, Paul Willmott,
Sally Willmott, Andrea Rodgers
Fr Kieran opened the meeting with prayer.
Apologies: Helen Hallett
No conflicts of interest
Minutes agreed and signed.
Actions from last meeting:
Father has not been able to get through the contact person at the Legion of Mary to agree dates.
The St Vincent's tapestry is ready to be collected and taken to be cleaned. Fr K has reminded the person responsible a couple of times about this job.
Building work progressing and is still on track to finish on agreed timescale.
Agenda Items:
Audio – MH asked about music system as he felt music could be introduced during times of confession. This couldn't been done during exposition of the Blessed Sacrament. Fr K will change times of confession and music can then be played – possible Gregorian chant.
Requiem Mass card/booklet – MH and SW spoke of the need for a leaflet/booklet with responses and simple explanation of actions for people attending funerals. MH said that should a leaflet be produced a phone number for contact at church could be included as a possible route to evangelisation. The evangelisation team will look at producing an A5 leaflet with key information.
Persecuted Christians – MH would like more prominence given as their suffering is not acknowledged enough. Fr K will introduce a monthly/6 week mass when possible.
Confessional – Further sound proofing work to be done through the building project. Times of confession to be changed in the interim.
Talking before Mass : Welcome team to be gently reminded about noise before mass. Fr K said this was a brotherly/sisterly intervention job for us all to be involved in. It was acknowledged that for many people coming to church, talking to someone could be the first time this happened for days. RG reminded us that church needs to be 'a happy church and a place of prayer'. SW said that saying a 'hello, nice to see you' shows we care. It was agreed that excessive noise was damaging to the prayerful atmosphere.
Publication of minutes: Some parishioners had mentioned that the minutes displayed at the back of church were difficult to access with the current coffee arrangements at the back of church. For now, abridged minutes will be included with the bulletin. AR to email minutes to Joy Wells in the parish office so she can include them on the back of the bulletin.
Crucifix above the Altar. A parishioner had asked why this had been taken away. Fr K said it was in poor repair and had been taken away for health and safety reasons. It will be re-sited once the roof is watertight and decoration work has been completed.
Past and Present Parish Priests: Sr B drew the council's attention to the fact that in most churches a record of parishes priests was displayed as part of the church's history. Sr B provided the meeting with a picture from another church, showing a board with a record of priests and also a list of parish priests since our church was opened. Sr B proposed as we had no such record, that one be made. RG to look at costings for a wooden board or a marble one and report back to the meeting.
The meeting closed with RG leading us in prayer.
Andrea Rodgers
Secretary to PPC
7th May 2017 – Fourth Sunday of Easter Tide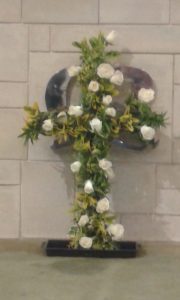 Today, we welcomed the children preparing for their First Holy Communion, along with their parents.
In our last session the children spent time thinking and talking about the gift of joy and about things that make them happy.
They also thought about Easter and the happiness that comes from knowing that the cross was not the end of Jesus.
The children demonstrated this by bringing a very dark cross to life with flowers.