Welcome to the website of The Church of the Assumption of Our Lady. We are a 150-year-old Catholic church located on Abbey Road in the centre of Torquay. You can read about our history on the church history page, and find out how to reach us with the interactive map. You may wish to follow us on our official Facebook page by clicking  here. If you have your own Facebook account you may wish to click the follow button.
This week's newsletter is available on the newsletter page.
MASS TIMES
Sunday
12
Holy Masses


08.30am
Aileen Whitehead R.I.P.
10.30am
In Thanksgiving (Ray Heath)
06.00pm
Polish Mass
Monday
13
NO MASS
Tuesday
14
Holy Mass

St Maximilian Kolbe
09.30am
Jimmy Kelly R.I.P.
Wednesday
15
Holy Mass
The Assumption of the Blessed Virgin Mary
10.00am
People & Parish
07.00pm
For Father kieran
Thursday
16
Holy Mass
04.30pm
Reception of Jimmy Kelly R.I.P.
Friday
17
Holy Mass
02.00pm
Funeral Requiem Mass Jimmy Kelly R.I.P.
Saturday
18
4.00pm - 4.30pm
Confessions
1st Mass of Sunday
05.00pm
Jimmy Kelly R.I.P.
Sunday
19
Holy Masses
08.30am
Victor Cotton R.I.P.
10.30am
Christina Bowden R.I.P.
06.00pm
Polish Mass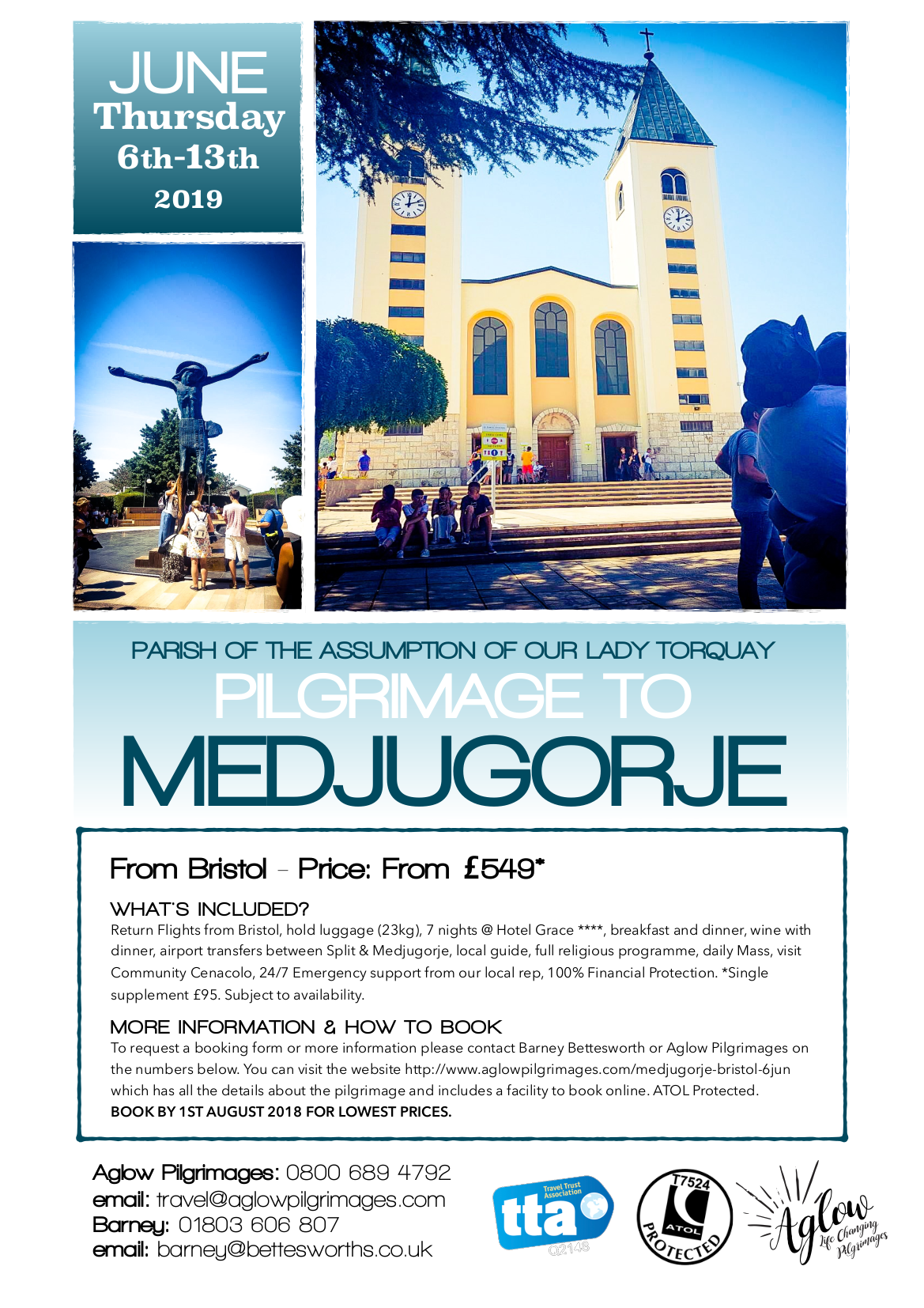 The Diocese of Plymouth GDPR Privicy Policy is available here or by Clicking on the GDPR Policy Menu item at the top of this page.