Welcome to the website of The Church of the Assumption of Our Lady. We are a 150-year-old Catholic church located on Abbey Road in the centre of Torquay. You can read about our history on the church history page, and find out how to reach us with the interactive map. You may wish to follow us on our official Facebook page by clicking  here. If you have your own Facebook account you may wish to click the follow button.
This week's newsletter is available on the newsletter page.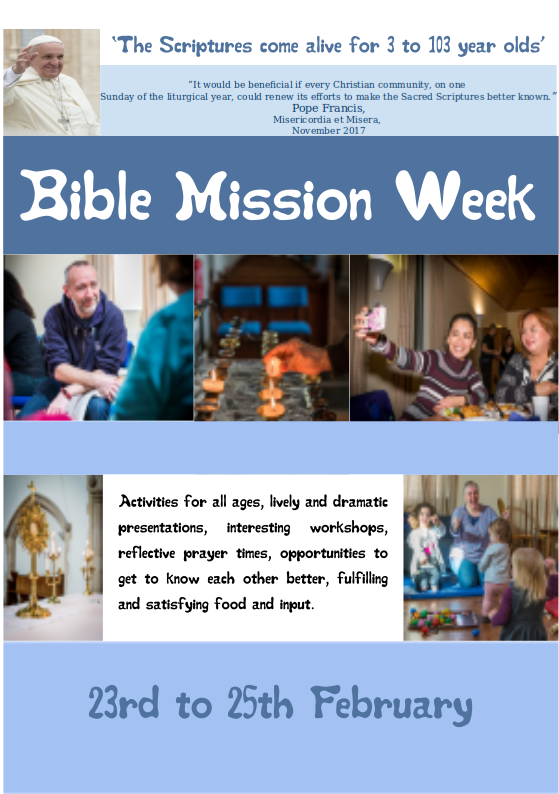 Are you ready for our Bible Mission Weekend ?
00
Days
10
Hours
27
Minutes
42
Seconds
23rd to 25th February 2018
An exciting weekend is planned for the whole parish; with workshops, prayer, innovative ideas, fellowship and food. Please keep this weekend free, it will be a great opportunity to get closer to the Lord. Beginning Friday evening and ending Sunday afternoon.
In preparation for the Bible Study weekend, members of the Parish Evangelisation Team will be sharing part of their life journey regularly in the newsletter.
IF YOU ARE INTERESTED PLEASE PRINT YOUR NAME ON THE 'SIGN UP SHEET' AT THE BACK OF THE CHURCH.  NO COMMITMENT!
FRIDAY
6.30PM MASS FOLLOWED BY DRINKS, NIBBLES & INTRODUCTION TO THE WEEKEND
SATURDAY
8.30AM SHARED BREAKFAST
10.00AM BIBLE EXPLORERS – An interactive presentation for parents and children aged 7 – 11 years old. Children younger than 7 years will have their own liturgy.
11.30AM WORKSHOP – GOSPEL PARABLES – A Bible study based workshop to help people grow in their understanding of the Gospel parables.
1.00PM BRING AND SHARE LUNCH
2.30 LECTIO DIVINA – a lead, scripture based reflection.
3.30PM WORKSHOP – INTERPRETING GOD'S CALL IN THE BIBLE – A Bible study based workshop looking particularly at how God calls in the Bible and how we and the Bible characters respond to God's call.
5.30PM LENTEN WEEKDAY MASS
6.30PM EVENING GATHERING AND SUPPER.
SUNDAY
SUNDAY MASSES AS USUAL, BUT THERE WILL BE NO COFFEE AFTER THE 10.30 MASS  – (but cold drinks will be available in the lobby area.)
12.30AM HOG ROAST – prepared by our Filipino parishioners.
2.00PM STORY TELLING – by the Bible Team.
2.30PM IN THE CHURCH –
CONCLUDING LITURGY & BENEDICTION.
Let us know what you are coming to Online
MASS TIMES
Sunday
18
Holy Masses
08.30am
Deceased Members of the Beale Family
10.30am
For Joanna & Edmund Fajga
20 Years Wedding Anniversary
03.30-5.00pm
Lenten Course & Benediction
06.00pm
Polish Mass
Monday
19
Holy Mass
06.00am
People & Parish
Tuesday
20
Holy Mass
09.30am
Dennis Wall R.I.P.
07.00 - 08.00pm
Exposition of the Blessed Sacrament & Confessions
Wednesday
21
Our Lady Help of Christians & St Denis
Holy Mass
10.30am
Funeral Requiem Mass Louis Rieunier Snr R.I.P.
Thursday
22
Holy Mass
08.00am
For The Passing of OSCE Takers.
Friday
23
BIBLE MISSION WEEKEND
12.30pm
Stations of the Cross
Holy Mass
06.30pm
For David & Sarah Beresford
Saturday
24
Holy Mass
05.30pm
For all Our Bible Mission Participants.
Sunday
25
Holy Masses
08.30am
Peter Tolley R.I.P.
10.30am
Stuart Dougal R.I.P.
06.00pm
Polish Mass