Welcome to the website of The Church of the Assumption of Our Lady. We are a 150-year-old Catholic church located on Abbey Road in the centre of Torquay. You can read about our history on the church history page, and find out how to reach us with the interactive map. You may wish to follow us on our official Facebook page by clicking  here. If you have your own Facebook account you may wish to click the follow button.
This week's newsletter is available on the newsletter page.
MASS TIMES
Sunday
15
Holy Masses


8.30am
People & Parish
10.30am
Ron & Freda Bailey R.I.P.
06.00pm
Polish Mass
Monday
16
NO MASS
Tuesday
17
NO MASS

Wednesday
18
Holy Mass
09.30am
Private Intention
Thursday
19
OUR LADY OF THE ANGLES SCHOOL END OF TERM MASS
2.00pm
8.00am
People & Parish
Friday
20
Holy Mass
09.30am
Peter Carr R.I.P.
Saturday
21
4.00pm - 4.30pm
Confessions
1st Mass of Sunday
05.00pm
Peter Carr R.I.P.
Sunday
22
Holy Masses
08.30am
People & Parish
10.30am
Ada Heath R.I.P.
06.00pm
Polish Mass
07.30pm
Reception of Pam Paice R.I.P.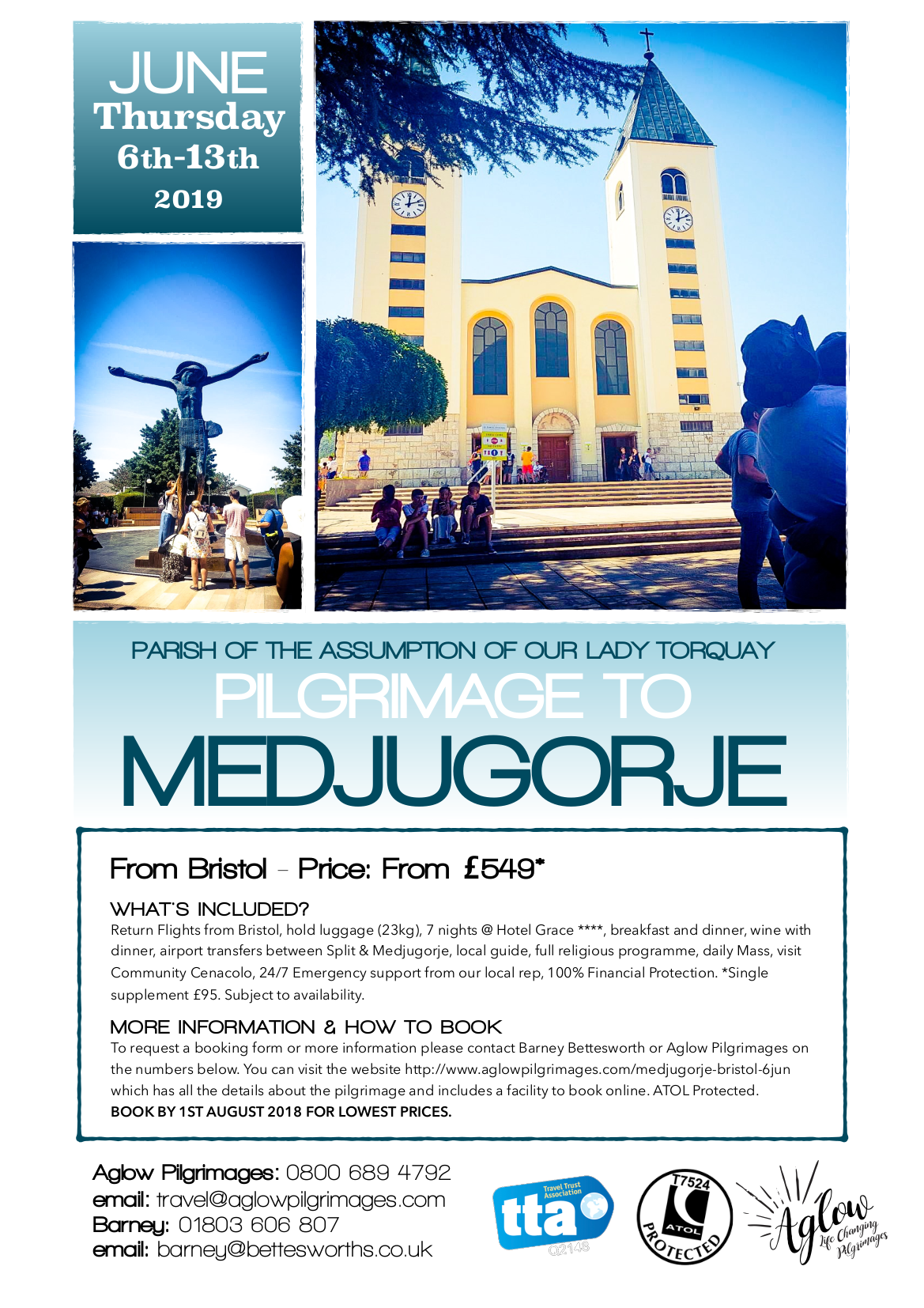 "We will be having an information meeting about the trip on Wednesday 18th July in the Parish Hall.  There will be a Prayer Group Meeting at 6.00pm (to which all are invited) followed at about 7.15/7.30pm by a Jonathan Bayliss, director of Aglow Pilgrimages who will be talking about Medjugorje and our Pilgimage.  That would be a good time to bring your booking form and your initial cheque for £250 or you can forward it to Barney Bettesworth beforehand if you prefer to reserve your place sooner.  "
The Diocese of Plymouth GDPR Privicy Policy is available here or by Clicking on the GDPR Policy Menu item at the top of this page.