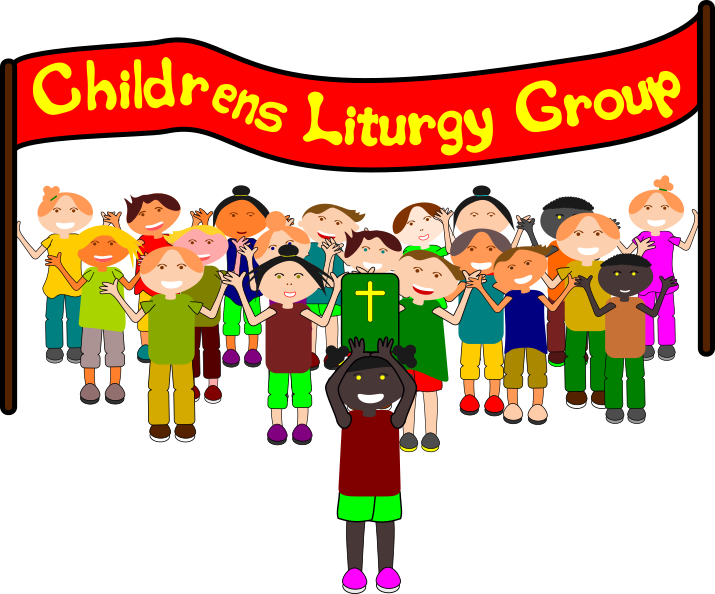 15th September 2018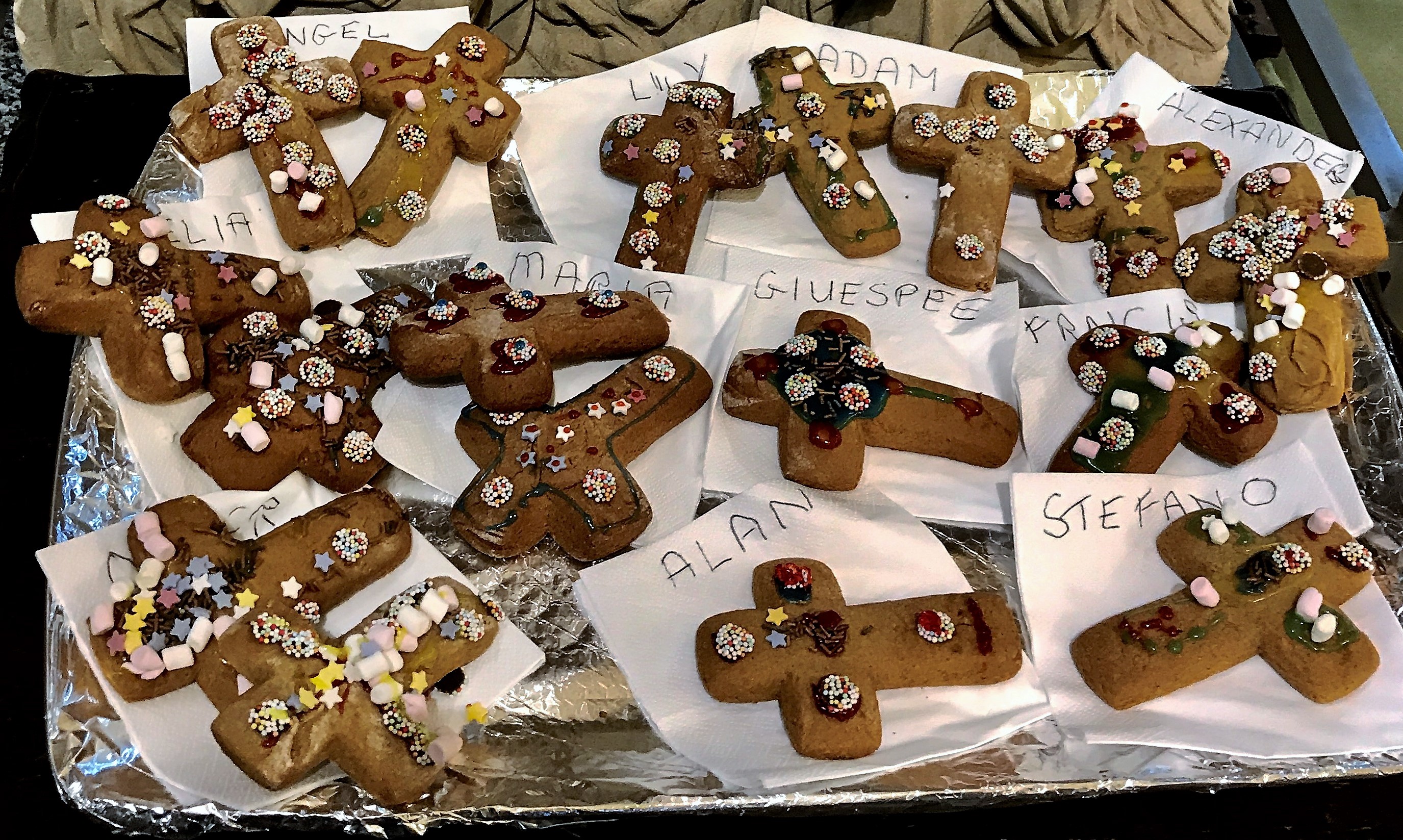 In our session we talked about the fact that Jesus asked his disciples who they thought he was.Peter of course came up with the right answer: 'You are the Christ'. We too know that Jesus is our Lord and our friend. Jesus also explained that his followers would often have difficult times ('they must take up their cross and follow him'). We know that sometimes things can be difficult but with Jesus' help we can always manage to overcome them. The children decorated gingerbread crosses for their activity. They will 'carry their cross' home.
Sunday 15th July 2018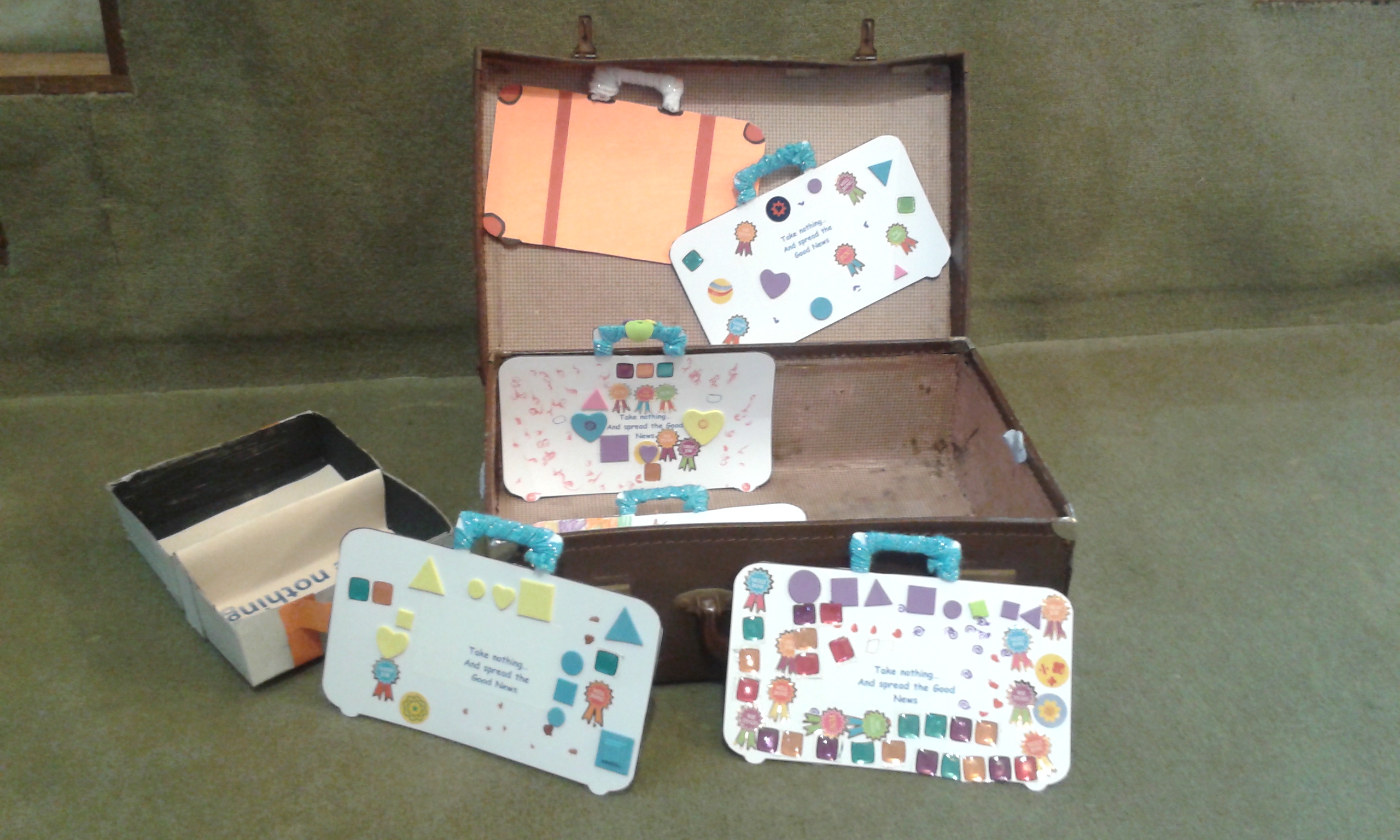 'Take Nothing'
When we discussed the Gospel reading today we looked at an empty suitcase! This was to remind us that when Jesus sent out the disciples in two's, he told them to 'take nothing' with them. We talked about the fact that Jesus says the same thing to us today – that we don't need to worry about gaining things, because Jesus will provide everything we ever need. To remind us of this, the children decorated cardboard suitcases, which we displayed in and around our large case in front of lectern. This was to show the congregation that when we spread the Good News of Jesus Christ we need nothing but our faith in the Lord.
Sunday 21st January 2018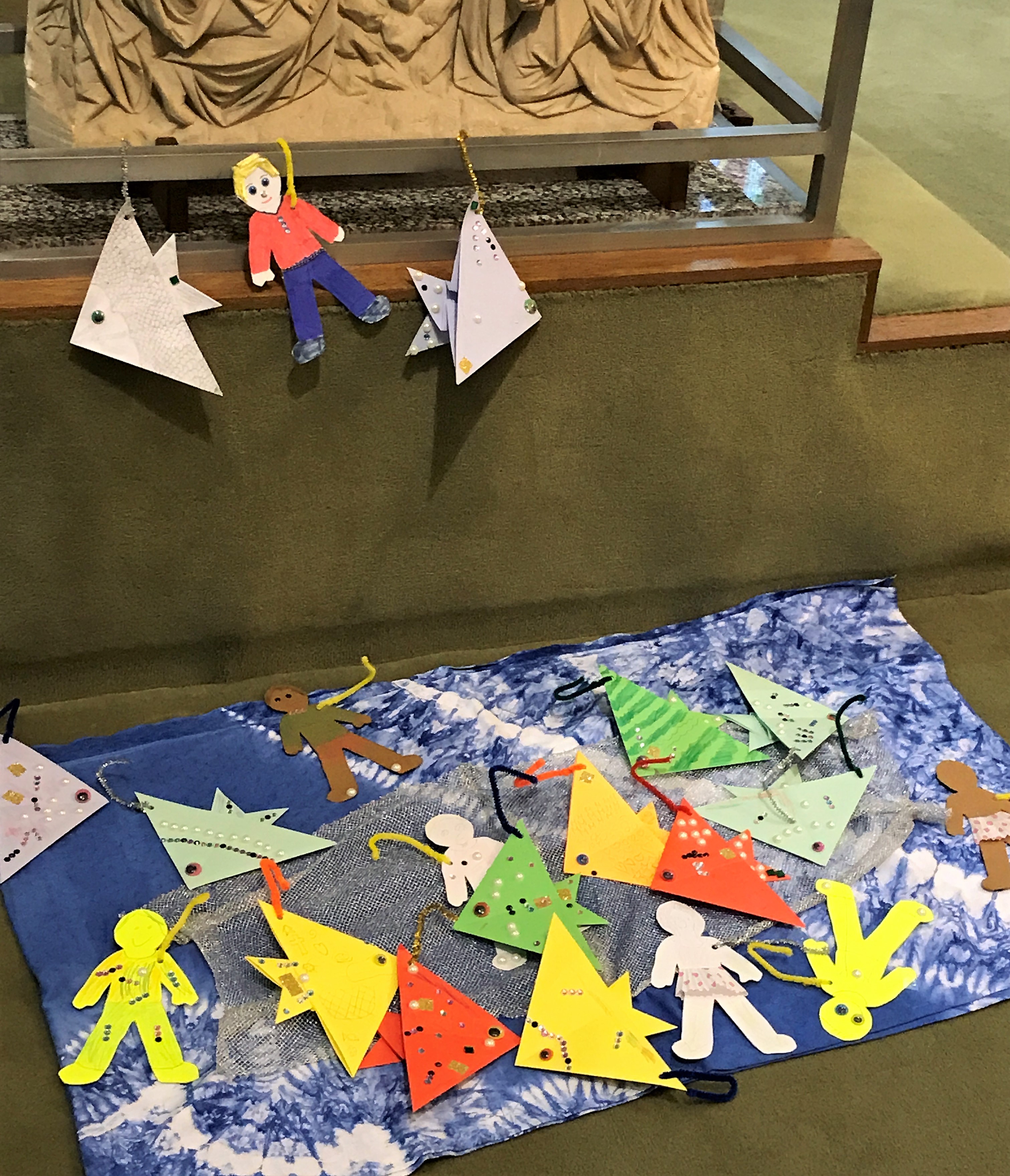 In today's Gospel reading the children heard about Jesus calling his disciples. They understand that each and every one of us is also called to follow Him in their lives.
The children heard that we should also try to encourage others to get to know the Lord and follow him – so becoming 'fishers of men'. To celebrate this they decorated fishes – and people!
Sunday 14th January 2018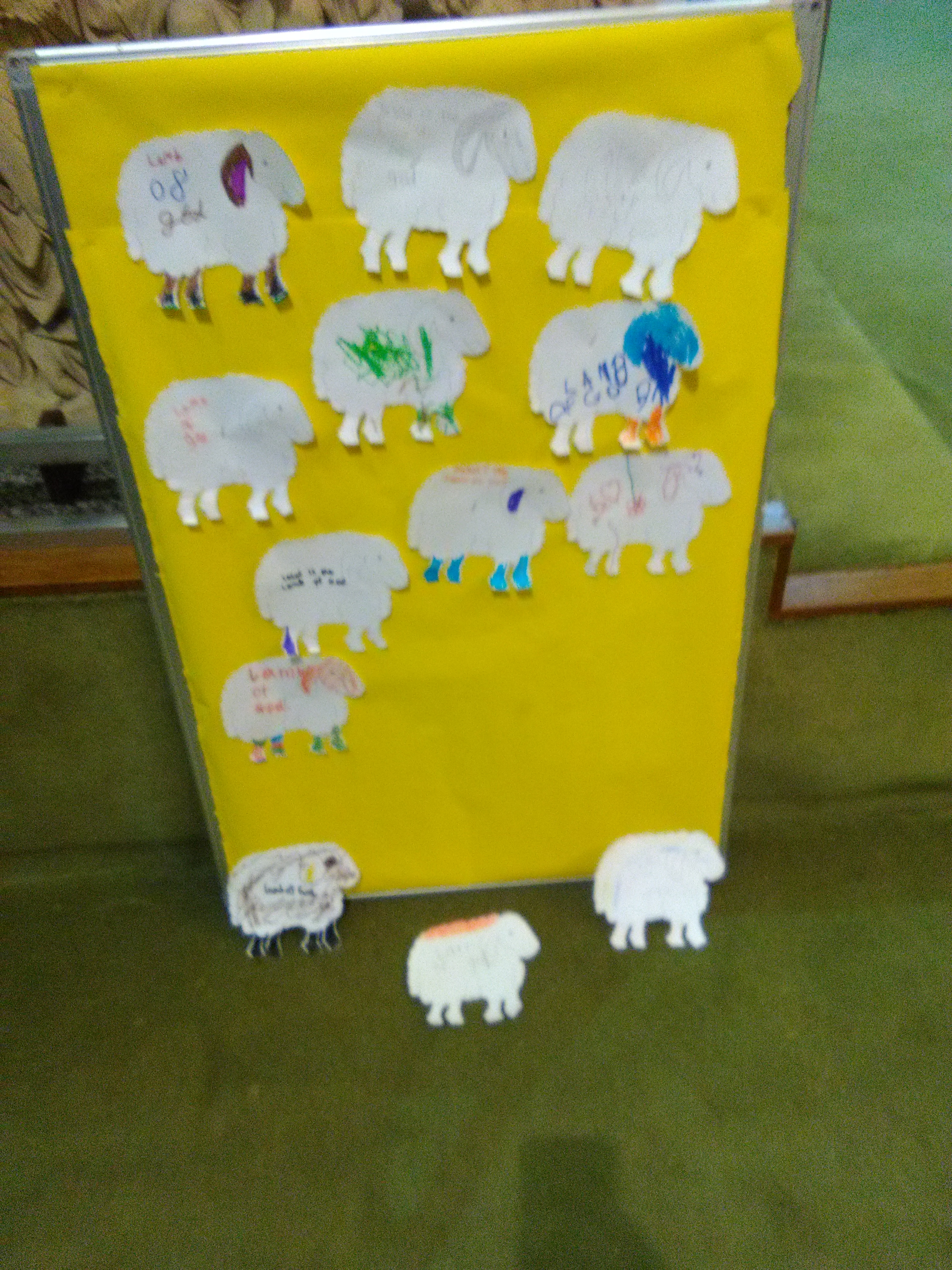 Sunday 17th December 2017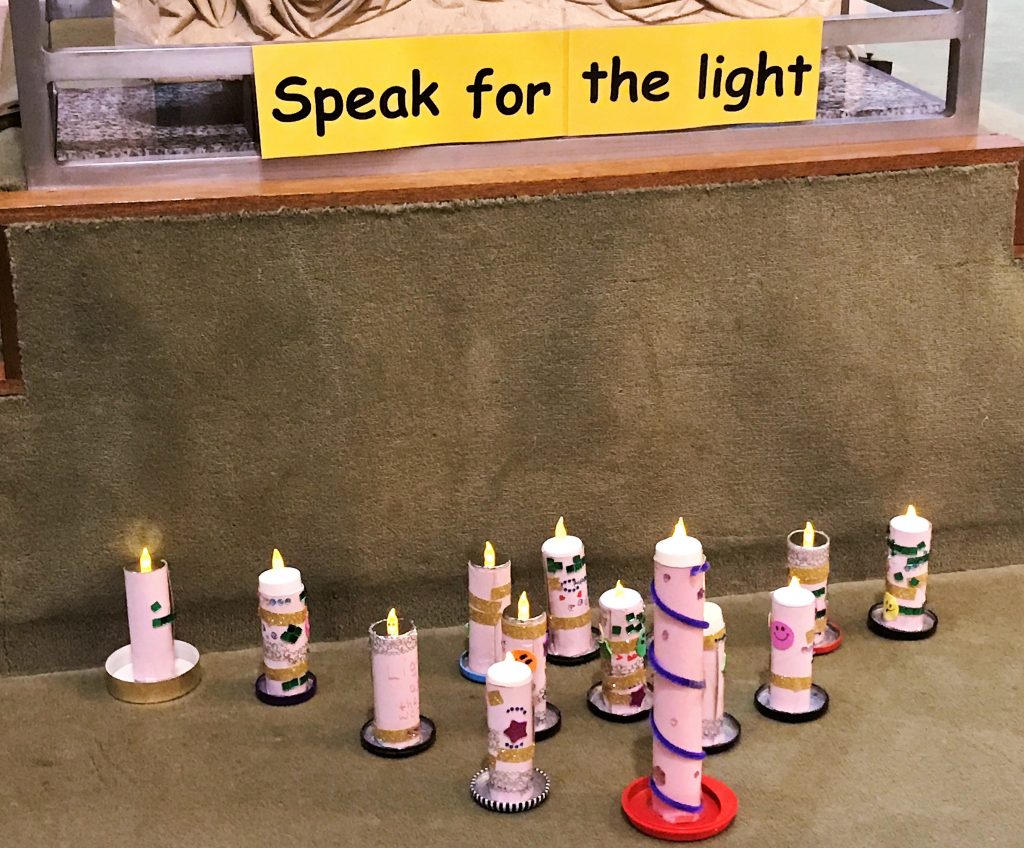 In Children's Liturgy of the Word, the children decorated candles. The 'electric' candles were switched on and placed in front of the lectern during Mass. Following the reading from this Sundays Gospel, the candles represent the light of Christ and our aim to 'speak for the Light' – just as John the Baptist did. The children took their candle home after Mass. In so doing, they spread the Word ever further!
Sunday 26th November 2017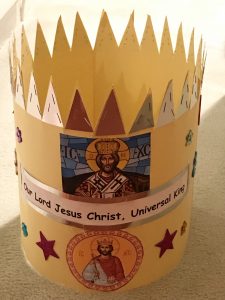 This Sunday is the feast of Christ the King. It marks the end of the Catholic Church's year. Today our children made paper crowns in honour of Christ the King.
Sunday 19th November 2017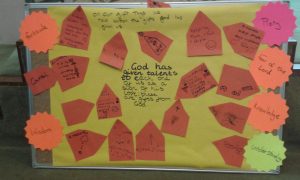 Gospel, Matthew 25:14-30
14 'It is like a man about to go abroad who summoned his servants and entrusted his property to them.15 To one he gave five talents, to another two, to a third one, each in proportion to his ability. Then he set out on his journey.16 The man who had received the five talents promptly went and traded with them and made five more.17 The man who had received two made two more in the same way. 18 But the man who had received one went off and dug a hole in the ground and hid his master's money. 19 Now a long time afterwards, the master of those servants came back and went through his accounts with them. 20 The man who had received the five talents came forward bringing five more. "Sir," he said, "you entrusted me with five talents; here are five more that I have made." 21 His master said to him, "Well done, good and trustworthy servant; you have shown you are trustworthy in small things; I will trust you with greater; come and join in your master's happiness." 22 Next the man with the two talents came forward. "Sir," he said, "you entrusted me with two talents; here are two more that I have made." 23 His master said to him, "Well done, good and trustworthy servant; you have shown you are trustworthy in small things; I will trust you with greater; come and join in your master's happiness." 24 Last came forward the man who had the single talent. "Sir," said he, "I had heard you were a hard man, reaping where you had not sown and gathering where you had not scattered; 25 so I was afraid, and I went off and hid your talent in the ground. Here it is; it was yours, you have it back." 26 But his master answered him, "You wicked and lazy servant! So you knew that I reap where I have not sown and gather where I have not scattered? 27 Well then, you should have deposited my money with the bankers, and on my return I would have got my money back with interest. 28 So now, take the talent from him and give it to the man who has the ten talents. 29 For to everyone who has will be given more, and he will have more than enough; but anyone who has not, will be deprived even of what he has. 30 As for this good-for-nothing servant, throw him into the darkness outside, where there will be weeping and grinding of teeth."
Sunday 12th November 2017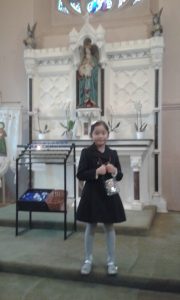 Gospel, Matthew 25:1-13
1 'Then the kingdom of Heaven will be like this: Ten wedding attendants took their lamps and went to meet the bridegroom.2 Five of them were foolish and five were sensible:3 the foolish ones, though they took their lamps, took no oil with them,4 whereas the sensible ones took flasks of oil as well as their lamps.5 The bridegroom was late, and they all grew drowsy and fell asleep.6 But at midnight there was a cry, "Look! The bridegroom! Go out and meet him." 7 Then all those wedding attendants woke up and trimmed their lamps,8 and the foolish ones said to the sensible ones, "Give us some of your oil: our lamps are going out." 9 But they replied, "There may not be enough for us and for you; you had better go to those who sell it and buy some for yourselves." 10 They had gone off to buy it when the bridegroom arrived. Those who were ready went in with him to the wedding hall and the door was closed.11 The other attendants arrived later. "Lord, Lord," they said, "open the door for us."12 But he replied, "In truth I tell you, I do not know you." 13 So stay awake, because you do not know either the day or the hour.
Today the children made their own lamps representing their faith in God.
Sunday 29th October 2017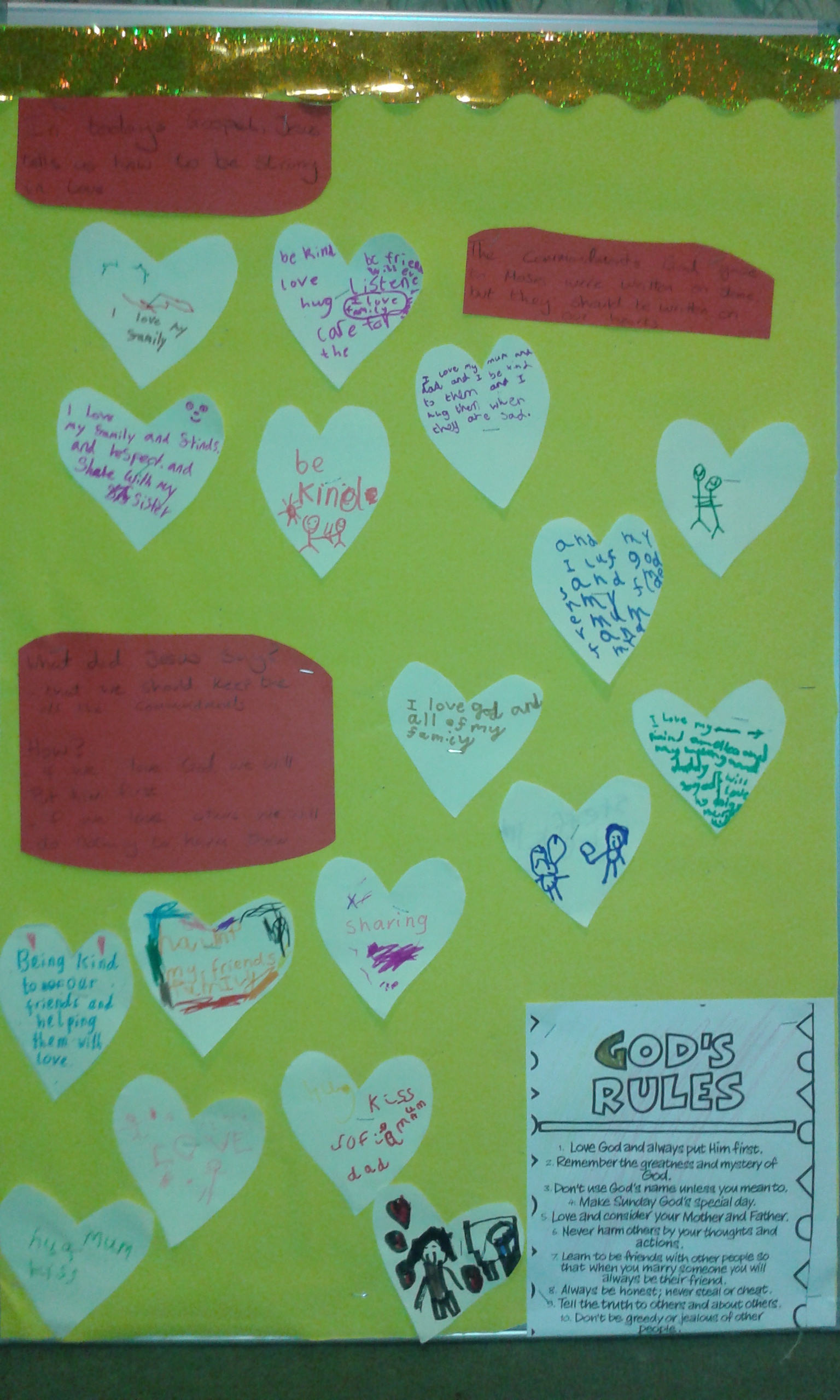 Gospel, Matthew 22:34-40
34 But when the Pharisees heard that he had silenced the Sadducees they got together 35 and, to put him to the test, one of them put a further question, 36 'Master, which is the greatest commandment of the Law?' 37 Jesus said to him, 'You must love the Lord your God with all your heart, with all your soul, and with all your mind. 38 This is the greatest and the first commandment. 39 The second resembles it: You must love your neighbour as yourself. 40 On these two commandments hang the whole Law, and the Prophets too.'
Today the Children's Liturgy group considered ways of Loving the Lord our God with all their heart, soul and mind.
Sunday 15th October 2017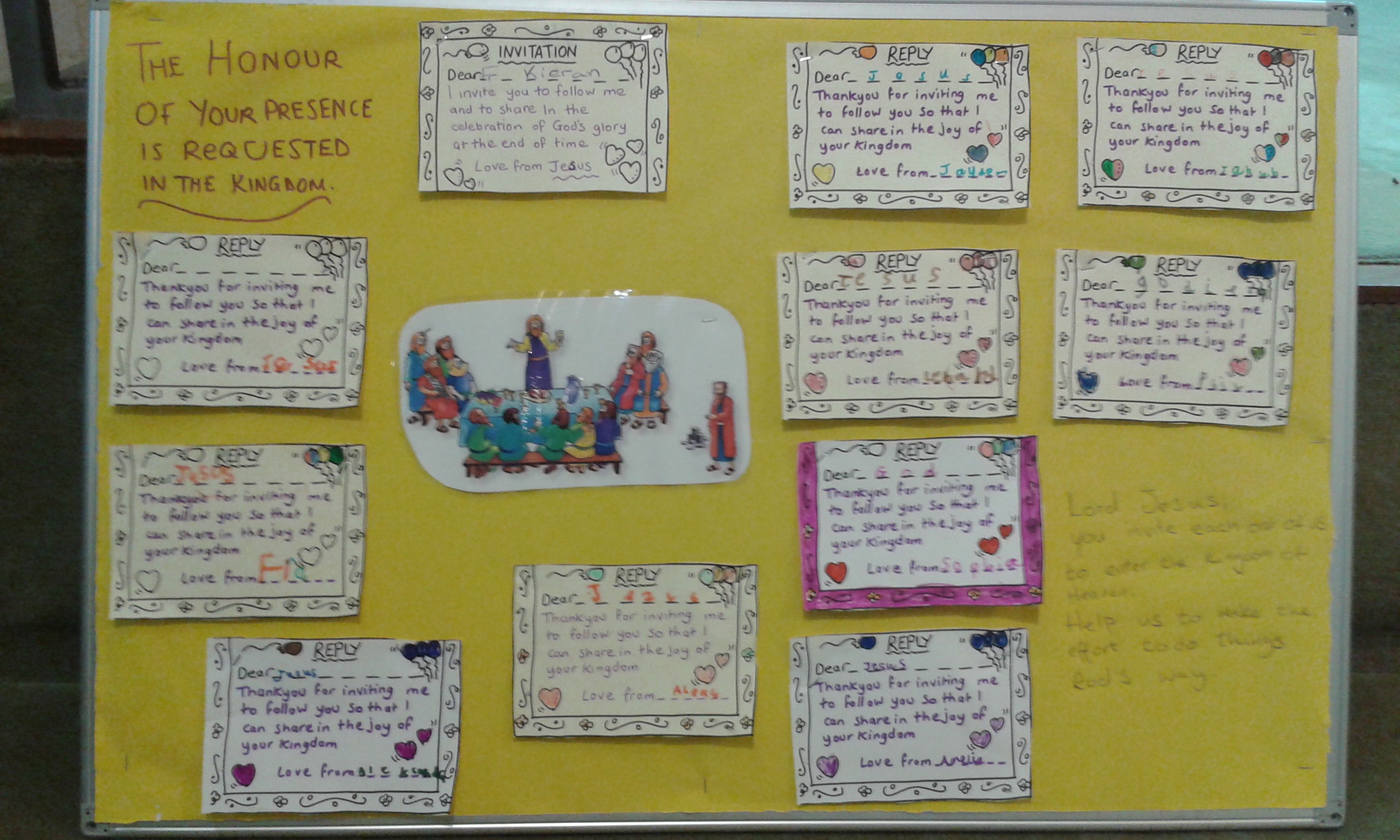 Mathew 22:1-14
1 And Jesus answering, spoke again in parables to them, saying: 2 The kingdom of heaven is likened to a king, who made a marriage for his son.3 And he sent his servants, to call them that were invited to the marriage; and they would not come.4 Again he sent other servants, saying: Tell them that were invited, Behold, I have prepared my dinner; my calves and fatlings are killed, and all things are ready: come ye to the marriage.5 But they neglected, and went their own ways, one to his farm, and another to his merchandise.6 And the rest laid hands on his servants, and having treated them contumeliously, put them to death.7 But when the king had heard of it, he was angry, and sending his armies, he destroyed those murderers, and burnt their city.8 Then he saith to his servants: The marriage indeed is ready; but they that were invited were not worthy.9 Go ye therefore into the highways; and as many as you shall find, call to the marriage. 10 And his servants going forth into the ways, gathered together all that they found, both bad and good: and the marriage was filled with guests.11 And the king went in to see the guests: and he saw there a man who had not on a wedding garment.12 And he saith to him: Friend, how camest thou in hither not having a wedding garment? But he was silent.13 Then the king said to the waiters: Bind his hands and feet, and cast him into the exterior darkness: there shall be weeping and gnashing of teeth.14 For many are called, but few are chosen.